Don't expect a talking head lecture format like most conferences. All workshops are interactive and promote discussions among advocates AND presenters. The sessions and setting at Miraval naturally lend themselves to daily informal networking opportunities where genuine interactions with those doing the same work come with ease. A detailed participant roster is provided to make it easier for you to continue all the valuable connections you create at ESCAPE.
Sunday, August 14, 2016
12:00 – 4:00 PM
Arrivals and Registration
4:00 – 5:15 PM
Welcome Reception with Sponsors
5:15-6:45 PM
Group Dinner
6:45 – 7:45 PM
Focus Groups Sessions with Sponsors
Monday, August 15, 2016
A full morning about Public Policy
8:30 am – 12:30 pm
Engaging in Public Policy Advocacy: Changing Cancer Care in the US
A highly interactive, hands-on workshop led by Shelley Fuld Nasso, CEO, National Coalition of Cancer Survivorship (NCCS)
Everyone who is diagnosed with cancer is impacted by public policy. Federal, state and even local governments make decisions that have an impact on cancer patients and survivors.  Get an up-to-date overview of current and upcoming public policy before you learn a variety of ways advocates can engage in public policy efforts. You will have the opportunity to craft and deliver your message to ensure that policymakers hear and consider the voice of cancer survivors.
Lunch at leisure
An Afternoon about Organizations
1:30 pm – 5:30 pm
Learn new strategies and improve on existing skills to encourage growth and sustainability for a healthy organization. Interactive sessions will offer opportunities to learn from the pros as well as fellow advocates on what works and what doesn't.
Join Laura Alexander and Jenny Carrillo of Alexander/Carrillo Consulting for two workshops held concurrently based on level of organization need:
Young* Organizations and Experienced* Organizations 
Board Development – Building the Exceptional Board:
Learn about the Board Building Cycle and the ten steps you should take to build, engage and sustain a high functioning board of directors.  Create your own plan for implementing these strategies to build the board you deserve. 
Ready, Fire, Aim!  Strategic Planning that ensures your relevance for the future:
A good process is as important as the plan itself.  Design a strategic planning process that will identify your critical issues, gather the data and input you need to make good decisions, and ensure that you have a plan that you can measure and implement.  
1:30-2:45 PM     Building the Exceptional Board – young organizations
1:30-2:45 PM     Ready, Fire, Aim: Strategic Planning – experienced organizations
3:00-4:15 PM     Building the Exceptional Board – experienced organizations
3:00-4:15 PM     Ready, Fire, Aim: Strategic Planning – young organizations
*Definition of "young" organization – 1 or more factor applies: Little or no paid staff, in existence for 3 years or less, board members function as staff/management
*Definition of "experienced" organization – paid full-time Executive Director and at least one other paid, professional staff member; board primarily serves in governance role vs. not managing or running programs, groups that are a part of a national affiliate or not defined as "young" organization above.
4:30 – 5:30 PM  Crafting and Sharing Your Compelling 2-Minute Story
Join this interactive session to learn how to capture attention with a real hook that causes your listener to say "Tell me more!"
Dinner and evening at leisure
Tuesday, August 16, 2016
A Day about Wellness
8:30 am -11:30 pm
Healing in the Healer's Mirror
Dr. Mark Gilbert, Director of the Eye of the Hurricane program at the University of Arizona Cancer Center returns by popular demand.
Self-awareness in our work is critical to outcome. Learn the importance of how the transitions experienced through our own losses influence how we approach those we are trying to advocate for. Discover how hope and healing are awakened through this transitional process.
12:00 – 1:15 pm
Private Group Lunch and Cooking Demonstration
Learn how to prepare healthy, delicious meals as Miraval's Chef presents the anti-inflammatory kitchen over lunch.
1:30 pm – 2:45 pm
Environmental Issues and Survivorship
Session led by Victoria Maizes, MD, Executuve Director of the University of Arizona Center for Integrated Medicine.
We are exposed to chemicals in the food we eat, the beverages we drink, the products we put on our bodies, and the sprays we use around our homes.  Mounting evidence links environmental toxins to carcinogenesis as well as to obesity, neurodegenerative changes, and endocrine disruption.  Dr. Maizes will address the evidence linking environmental chemicals to adverse health outcomes as well as practical strategies that have been shown to reduce exposure and risk.
3:00 pm – 4:15 pm
Sexuality and Intimacy – Multi-dimensional Loving After Cancer
Dr. Lana Holstein, national expert and author on sexuality and intimacy
Cancer often provides the opportunity for extraordinary intimacy yet it has unique challenges for us as lovers. Learn the framework of the Seven Dimensions of sexuality, their positive and negative aspects, and the traps which ensnare us. Take away homework assignments for each dimension as well as an understanding of what makes a multidimensional lover no matter their medical history. This is an interactive, fun presentation by Dr. Holstein who has discussed and written about sex for years and who has had colon cancer herself. Come, have a frank discussion about intimacy and take home information on this essential topic.
4:30 pm – 5:30 pm
Current and Hot Topic Discussions
Topics to be submitted by participants and the group will determine those to be discussed. What's your idea?
5:45 pm – 6:45 pm
Native American Meditation and Navajo hoop dance by Tony Redhouse
7:00 pm – 8:30 pm
Group Dinner
Wednesday, August 17, 2016
Departure or extend your stay at Miraval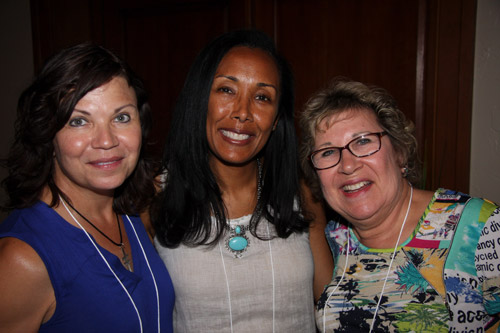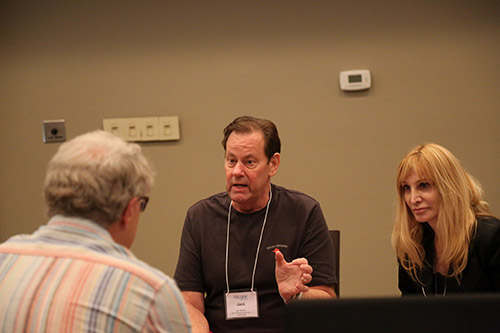 "Before coming here, I had been contemplating stepping away from my advocacy work.
Being here at Miraval has really re-energized me."