ESCAPE to Thrive 2018 Presenters: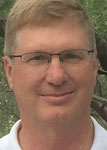 Donald Brooks, MD specializes in Hematology and Oncology at Arizona Oncology Associates. Prior to joining Arizona Oncology Associates, Dr. Brooks served as Assistant Professor of Internal Medicine at the University of Arizona Health Science Center in Tucson. He continues to serve the Center as a private practice and clinical assistant professor. Dr. Brooks is a member of the American College of Physicians; American Medical Association;  American Association for Cancer Research; American Society of Clinical Oncology; and the Arizona Clinical Oncology Society. During his free time, Dr. Brooks enjoys spending time with his family, camping, and hiking.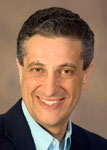 Dr. Mark David Gilbert, M.D., Dip. ABPN, F.R.C.P. is a past Director of the Mind-Body Medicine Skills Group Program at the Banner University of Arizona Medical Center-Tucson; past Co-Leader of Psychosocial Oncology, the Banner University of Arizona Cancer Center; former Director of Consultation-Liaison Psychiatry; and Associate Professor of Psychiatry at the University of Arizona. Dr. Gilbert has practiced Psychiatry for over four decades after graduating from UCLA's residency program. He lectures the Mind-Body Medicine, Physician Self-Care, and Coping with Life-Threatening and Chronic Illness courses at the College of Medicine, University of Arizona and has been treating cancer patients for over 40 years. He has been a contributing member in psychosocial oncology and mind-body medicine for the Integrative Oncology fellowship and student elective program respectively at the Arizona Center for Integrative Medicine, and has had an affiliation with the Reproductive Health Center in Tucson, Arizona. Dr. Gilbert is on the teaching faculty for the University of Arizona senior Psychiatry residents, and has won both Junior and Senior teaching awards in that role. Dr. Gilbert was the co-director of one of the first Integrative Medical Clinics in Canada and has been Director of the Eye of the Hurricane® Mind-Body Medicine Skills Group Program for over 20 years. At present, Dr Gilbert is a Housestaff Mentor for the Residents and Fellows at the College of Medicine, University of Arizona; teaches for the Department of Psychiatry, and has a small private practice.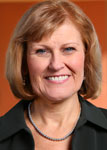 Gayle Jameson is a Nurse Practitioner who has cared for adults living with cancer for nearly 40 years.  She is certified as an Advanced Oncology Nurse (AOCN) and is especially interested in the care of patients with pancreatic cancer, early cancer drug development and symptom management.
In her role as Associate Investigator at the Oncology Clinical Trials Department, HonorHealth Research Institute in Scottsdale, Arizona, she has been Principal Investigator (PI) on multiple phase I and investigator initiated studies and Sub-investigator on 50+ phase I anti-tumor clinical trials.  She was the site PI on an international study that led to the approval of Onivyde™ plus 5FU and leucovorin for patients with metastatic pancreatic cancer. She has presented her work nationally and internationally.  Gayle also specializes in symptom management, working with patients in managing fatigue, cachexia and other problems related to cancer and cancer treatments. Gayle also holds an Adjunct Faculty appointment at the Translational Genomics Research Institute (TGen).
Prior to coming to Arizona, Gayle had various nursing roles at the University of Pittsburgh Cancer Institute. Later as a Nurse Practitioner, she was employed at Medical Center Clinic, P.C. and Allegheny Hematology Oncology Associates in Pittsburgh, Pennsylvania.
Gayle earned a nursing diploma at St. Francis Hospital, New Castle, PA (1978), baccalaureate (1982) and master's degree in Nursing (1997) at the University of Pittsburgh. She is a member of the Oncology Nursing Society (ONS), American Academy of Nurse Practitioners (AACN), American Society of Clinical Oncology (ASCO), and American Association for Cancer Research (AACR).
TJ Johnson, Mr. Johnson joined HTG Molecular Diagnostics in 2008 as Chief Executive Officer and has led the company's transition from a boutique research company to a growing personalized healthcare based company.  Mr. Johnson has lead the efforts to establish the key business strategies and hire a management team with over 200 years of combined diagnostic experience.
In this role TJ has driven the optimization and extension of HTG's core technology into new products such as the HTG EdgeSeq automation platform allowing the company to compete in the fast growing personalized healthcare, diagnostic/clinical application markets.
Prior to joining HTG Molecular TJ spent five years as a SVP for Ventana Medical Systems now Roche Tissue Diagnostics.  He is a founding member of the BioScience Steering Committee and an active angel investor through the Tucson Desert Angels.  TJ graduated with a business degree from Indiana University in 1983.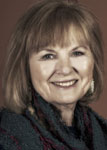 Susan Leigh, BSN, RN After receiving her degree in nursing from the University of Arizona in Tucson, Susan Leigh served as a Lieutenant in the U.S. Army and completed a tour of duty in the Mekong Delta, Vietnam, in 1971.  Soon after her return from Vietnam, she was diagnosed with Hodgkin lymphoma and treated with some of the earliest forms of chemotherapy and radiation. This experience influenced her decision to become an oncology nurse.
For the past 3 decades, Susan has focused her efforts on national advocacy work with special emphasis on long-term and late effects of cancer treatment.  Her most cherished involvement has been with the National Coalition for Cancer Survivorship (NCCS) as a founding member and past president.  She has also been actively involved with many professional organizations, including the Oncology Nursing Society and the National Cancer Institute.
Susan also worked as a Survivorship consultant and educator with Arizona Oncology in Tucson until health issues accelerated her decision to retire.  As major treatment-related cardiac issues and a paralyzed vocal cord made it difficult to fulfill work obligations, she continues to be available in a consultant capacity.  Besides surviving Hodgkin lymphoma, she has also been treated for breast and bladder cancers, and recently completed targeted radiation therapy for early stage lung cancer.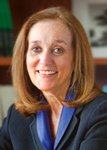 Mary S. McCabe, R.N., M.A., is the past Clinical Director of the Cancer Survivorship Center at Memorial Sloan-Kettering Cancer Center (MSK). From 2003 through 2016, she was responsible for developing and implementing a center-wide program and services for cancer survivors focused on research, clinical care, professional training and education. She was also a faculty member in the Division of Medical Ethics at the Cornell Weill Medical College and Chair of the MSK Ethics Committee where she remains a consultant in medical ethics. A graduate of Trinity College, Emory University and Catholic University, she was previously the nursing director at the Lombardi Cancer Center, Georgetown University in Washington, DC, and held several positions at the National Cancer Institute (NCI) before joining MSK. Ms. McCabe has served on many committees, including the Committee on Improving the Quality of Cancer Care at the Institute of Medicine, the Survivorship Steering Committee of the American Cancer Society, the National Comprehensive Cancer Network Survivorship Panel, the NCI Clinical Trials and Translational Research Advisory Committee and is the past chair of the American Society of Clinical Oncology (ASCO) Survivorship Committee. She has received numerous awards, including the American Cancer Society Merit Award, Oncology Nursing Society Leadership Award, NIH Outstanding Performance Award, NIH Director's Award and the Outstanding Alumnae Award, Emory University. In 2016 she received the Leonard Rosen Memorial Research Award given by Children's Cause for excellence in Cancer Survivorship research.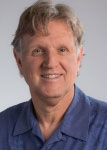 Michael Moynihan, MD is a family medicine doctor in Tucson, Arizona. He received his board certification with American Board of Family Practice. His medical education is from University of Arizona College of Medicine. Residency is through American Academy of Family Physicians and University of Arizona Medical Center. Dr. Moynihan's internship was through Tucson Hospitals Medical Education Program. His hobbies and interests include: reading, current events, running, hiking, backpacking, theater, music and the arts.
Shelley Fuld Nasso, MPP, is Chief Executive Officer of the National Coalition for Cancer Survivorship. She serves as a member of the National Cancer Institute's National Council of Research Advisors, the American Society of Clinical Oncology's Cancer Survivorship Committee, and the National Quality Forum's Measures Application Partnership. Prior to joining NCCS, Shelley served in leadership roles at Susan G. Komen, where she leveraged the strength of Komen's grassroots network to strengthen the organization's reputation and visibility in Washington, D.C., and in state capitals. Shelley has also served as Director of Community Philanthropy at The Dallas Foundation and held management positions at communications and technology enterprises. She is a graduate of Rice University and holds a Master of Public Policy from the Harvard Kennedy School. Shelley's commitment to the work of NCCS is strongly tied to the experiences in the cancer care system of her dear friend, Dr. Brent Whitworth, a beloved physician diagnosed with stage IV cancer days before his 42nd birthday. Through Brent's battle, Shelley witnessed the strengths and flaws of the cancer care system and embraces the notion that policy change can directly benefit patients and caregivers going through this journey.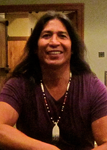 Tony Redhouse serves as a traditional Native American practitioner & consultant to Native American communities,behavioral health organizations and non-profits. He also provides one-to-one spiritual coaching sessions with individuals to bring simplicity and clarity to life transitions, goals and healing. Mr. Redhouse uses Native American art, dance and music to inspire and heal lives. He is a Grammy-nominated recording artist, inspirational speaker, spiritual teacher and Hoop and Eagle dancer.  As a World-Beat percussionist, he has performed and recorded with the late Vince Welnick of "Grateful Dead", late Ruben Romero on "Native Flamenco" album, Snatam Kaur on "Heaven and Beyond" and "Reunited."
Sherri Romanoski, is a cancer survivor and the founder of BAG IT, a non-profit organization that provides newly diagnosed cancer patients and their families with helpful resources for coping with diagnosis and treatment. BAG IT has helped 70,000 people with cancer since 2003. Its vision is to empower patients to be more engaged in their care, advocate for themselves, and learn to cope with the challenges associated with diagnosis and treatment. Further, BAG IT empowers cancer advocates to promote this same vision in their communities. Sherri developed and launched ESCAPE to Thrive Leadership Conference for Cancer Advocates in 2010, an innovative approach to advocacy support.
In addition to working in patient advocacy for 14 years, Sherri has 10 years of experience as a behavioral health educator and 22 years as a classroom teacher. Her patient advocacy experience includes Department of Defense research review, clinical trial and cancer research proposal review at the University of Arizona Comprehensive Cancer Center, patient advocate on the Scientific Advisory Board for the University of Arizona Comprehensive Cancer Center NCI Review, Quality of Life and Treatment committees member for the Arizona Cancer Coalition, and Advisory Board member for the GWU PCORI GATE Project.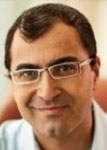 Monte Shaheen, MD is a member of the UA Skin Cancer Institute. Dr. Shaheen received his medical degree from Damascus University in Syria, and completed his fellowship at Indiana University Medical Center, specializing in hematology/oncology. Dr. Shaheen is certified by the American Board of Internal Medicine in hematology and medical oncology.
Dr. Shaheen is a Physician-Scientist with clinical and laboratory research efforts. He is specialized in the treatment of melanoma, as well as kidney and bladder tumors. His clinical trial portfolio includes a spectrum of novel immuno- and targeted therapies. As an example, his team was part of the trial that led to the FDA approval of a powerful immunotherapy combination ( ipilimumab and nivolumab) for the treatment of metastatic melanoma ( NEJM, 2015 May 21;372(21):2006-17)
His lab investigates mechanisms of DNA damage response and repair in connection to cancer generation and resistance to therapeutic agents, with an emphasis on the role of the ubiquitin pathway in this process.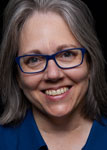 Alicia Staley, is the Director of Patient Engagement at Science 37.  She is a three-time cancer survivor, first diagnosed with Hodgkin's disease as a sophomore at Syracuse University. After 15 years in software design and information systems management, Alicia began to apply her engineering background to improve the patient experience for those dealing with cancer.
With an extensive network of patient advocates and non-profit organizations, she collaborates with a wide range of stakeholders to help improve processes and policies that impacts cancer care.
An early adopter of social media, she co-founded #BCSM, which attracts over 250 global participants each week to its scheduled online discussions. Since its launch, #BCSM has been showcased at SXSW in 2013, 2014, and 2015, and is recognized as the gold standard for disease-specific Twitter chats.
She regularly speaks at conferences throughout the US. She has presented at Livestrong's Rev2014, American Society for Breast Surgeons Annual Meeting, South by South West Interactive Conference (SXSW), 140 Boston, and Social Media for Pharma.  As an inspirational speaker, Alicia reaches many different audiences, providing insight into life as a 25+ year cancer survivor.